How Harvard and Yale are beating the coronavirus
In this issue: New York's comeback, restaurants and indoor dining, Crimson Clear, SalivaDirect, and the Smile Mask.
Hi all, greetings from Santa Monica!
Last week I got on a plane and flew back east for the first time since Covid. I spent the week in New York City and Cambridge, Massachusetts, where I visited Harvard's campus. Here's what I learned.
New York City restaurants
As fires ravage the west coast, things out east are improving.
I loved seeing all the outdoor dining spots that have popped up in New York. Restaurants in NYC are reopening. Infection rates in the city have stayed below 1%. People are venturing out. It feels like a new beginning.
The city's Open Streets initiative has allowed outdoor dining to flourish. Dozens of city streets have been closed off to street traffic during lunch and dinner hours. The West Village, my old neighborhood, has a more European feel, with people dining al fresco on cobblestone streets.
My friends advised me to make reservations ahead of time. More people are booking outdoor seats at restaurants with limited capacity.
I was at dinner with friends on 7th Avenue when it started pouring rain. We were trapped under the awning, getting soaked, with nowhere to go. It made me reflect on what life in New York will be like this winter with no indoor bars and restaurants.
Last week Governor Cuomo announced indoor dining will be allowed to resume in New York City for the first time since the start of the pandemic. Starting September 30th, city restaurants (but not bars) can reopen indoors with 25% capacity.
How many New Yorkers will be willing to dine indoors? I'm guessing quite a few. Restaurants are a huge part of life in New York. They'll need to prove they can reopen safely. If people aren't allowed to congregate in public spaces indoors, this winter will be a tough one for New Yorkers.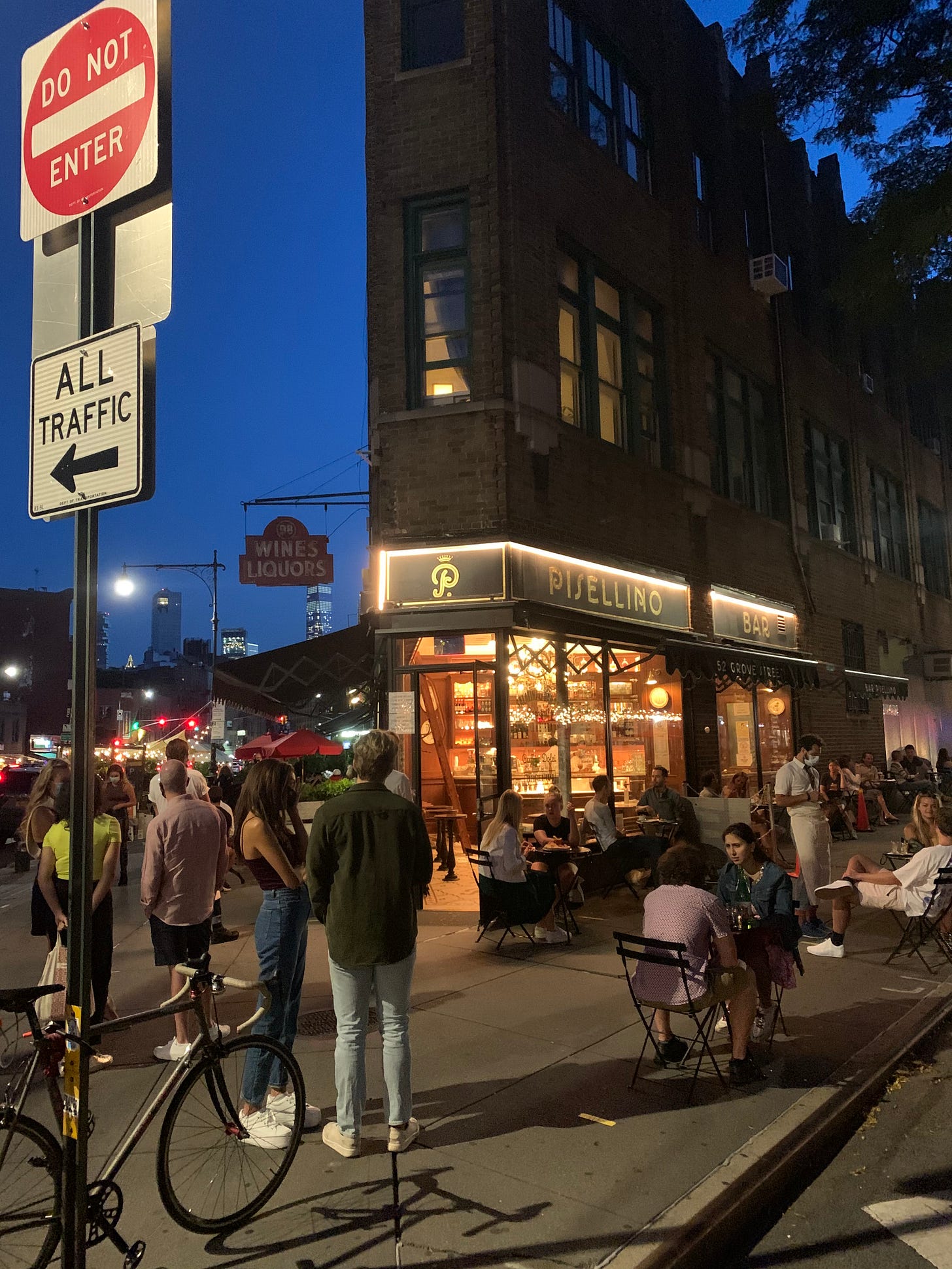 ---
The Smile Mask
I tried out the new Smile Mask by Rafi Nova. The design could use some work, but see-through masks are a great option for the hearing impaired and those who read lips.
The mainstream public would benefit from clear masks, too. We all rely on reading body language and facial expressions to understand people. Masks make it that much harder to communicate.
(I was thinking, there needs to be an SNL sketch about a Starbucks barista trying to understand my name from behind the mask: "David? Darnell? Banyell??)
---
Falling Covid mortality rates
New York's success controlling the virus shows that masks and distancing work. The city may have achieved some level of herd immunity, which is slowing the spread, says UCSF infectious disease specialist Dr. Monica Gandhi.
At last week's UCSF Covid Medical Grand Rounds, experts discussed why the Covid mortality rate has been falling in New York and other American cities.
The chart below from UCSF shows that New York City has had the highest death rate (10%). Experts believe this is because there was little mask wearing or distancing early on as outbreaks spread. The death rate in NYC has declined in recent weeks as the city has adopted masks and distancing.
San Francisco has not just a low case rate but also, by far, the lowest rate of deaths per case (0.87%) of major U.S. cities.
---
Harvard's new safety protocols
I wasn't sure what to expect when I visited my old college campus. Harvard Yard was eerily quiet, with only 25% of students back on campus.
How is the university enforcing safety?
Students, faculty and staff living in dorms on-campus are required to get tested 3 times a week under the college's new Crimson Clear program. A large tent was set up near Harvard Yard for self-administered Covid-19 testing. A contract tracing program is being rolled out to alert students of positive cases.
The number of in-person classes on campus will be very small. All courses at the college are being conducted virtually, as are the vast majority of classes at the university's graduate schools.
It will be a different college experience, to be sure, but I'm glad to see Harvard maintaining some semblance of campus life.
---
Yale rolls out SalivaDirect
A team at Yale has developed SalivaDirect, a new rapid saliva-based testing method for Covid-19. The FDA in August issued emergency use authorization (EUA) for SalivaDirect.
NBA players and staff have been testing the new system. It's thought to be about 90% as accurate as other tests using nose and throat swabs. You get results in 15 minutes. There's no special equipment or supplies needed, so many labs will be able to process the samples and get results quickly.
Starting this week we'll see saliva testing rolled out in locations across the country. These rapid saliva tests will help us move away from uncomfortable nasal swabs.
In an interview with Andy Slavitt, Harvard infectious disease specialist Michael Mina described his vision for rapid tests like SalivaDirect:
"You get these tests into the hands of people, all the hotspots of America. Anywhere cases are emerging. They brush their teeth each morning, and they use a Covid test to see if they are transmitting virus that day, perhaps asymptomatically. If they are positive, they stay home for 5 or 6 days, then test again. That would be enough to stop transmission chains.

You don't need to get 100% of people using them every day. Even if you got 40-50% of people using the saliva test every few days, the spread in the community would plummet. That infrastructure would be sufficient to suppress the virus and transmission so you're no longer worrying if the person sitting next to you at dinner has a Covid infection, because you'd be in peacetime.

It would make all of America safer, if you're not worried about people bringing the virus into your community."
---
Upcoming Events
I'll be giving a talk on Medical Technology, Digital Health, and How Healthcare Systems are Responding to Covid-19. The event is organized by LA CEOs and sponsored by Fenwick & West LLP.

The event is on Thursday, September 17. Click here for more information and to register.

I'll be moderating a panel on How to Prepare Your Organization for Covid-19: Winter 2020. With winter approaching, health experts fear a surge in new infections. What are business leaders doing to adapt and minimize the impact of Covid-19 on their organizations?

We'll discuss the new role of Health and Safety Officers and symptom monitoring, building access control, contact tracing, employee health records, testing, vaccinations, PPE and other related topics.

The event is on Wednesday, September 30. Click here for more information and to register.
---
Photo of the Week
It felt amazing to see my family for the first time in 2020. We met up in my sister's backyard, at a distance. I'll take the virtual hugs until it's safe enough for the real thing.
---
Until next week,
---
By Daniel Zahler
I'm Daniel, a healthcare and life sciences consultant based in Santa Monica, California. Every week I write an email newsletter with perspectives on health and wellness trends, and strategies & tactics on how to optimize cognitive, physical and emotional health. I hold a JD and BA from Harvard, have worked at Goldman Sachs and McKinsey, and currently advise global business leaders as a GLG council member.
Check out my articles in Thrive Global here.
---
Enjoy this?
There are a few things to do:
Follow me on Twitter.

Hit reply with your feedback and ideas :)

Share this post with others.